About me
My name is Chris, currently, I am a tech marketer. But, let's talk about how I got here.
It started when I was 14 years old, my friend at the time, Javik began a sports broadcasting hobby, this introduced me to the local media center which was a sub-company of Comcast (now, Xfinity). After working with Javik for a while, I continued the connection with the media center and became a intern there for video production management. Mostly video editing and scheduling times for the studio, but it also allowed me to create video content!
It even got me in the local online paper:
(still cringe at this photo, but, that's okay)
I worked there and kept producing content, I even worked on a short film for the media station, however, Comcast changes things up and my time there came to an end since they did not want to employ anyone under 18.
However, even at 15, I wanted to work - so I pushed through and found another job.
After a few quick Google searches I found a studio named C&C Design Studio.
At first outreach, Robin (the owner) completely blew it off, it's a wedding company so entrusting your wedding photography with a 15 year old didn't seem so cool.
But, after another outreach a few months later, in October of 2017 she took my on and let me do a few weddings and slowly I began to redo the website.
After working with Robin for about 6-months, I took on the task of overhauling the website and after a few bad attempts we got to a website that is now used by companies like PhotoBiz as "the gold standard of wedding studio websites."
During those 3-years working with Robin, I grew up, I owe her a lot for entrusting me. Additionally, growing up in the wedding industry truly trained me for college and beyond - chaos was always on the horizon in weddings.
Then, in 2018, my senior year of high school, after working as a Salesforce consultant for New England Ice Cream, a tech company named Plannuh ran by Peter Mahoney allowed me to come aboard.
I worked with Plannuh running their content marketing and implementation of HubSpot, an app I implemented at C&C Design Studio while doing their website overhaul (and workflow overhaul).
After almost two-years of learning from Peter and growing in the SaaS space, I went off to college at the University of Massachusetts, Lowell to double major in Marketing and Psychology. During this transition, I left Plannuh so that I could focus on academia.
Then, one day, sitting in my BUSI.1500 (Business 101) course I stumbled across a tweet from Jessica Meyer...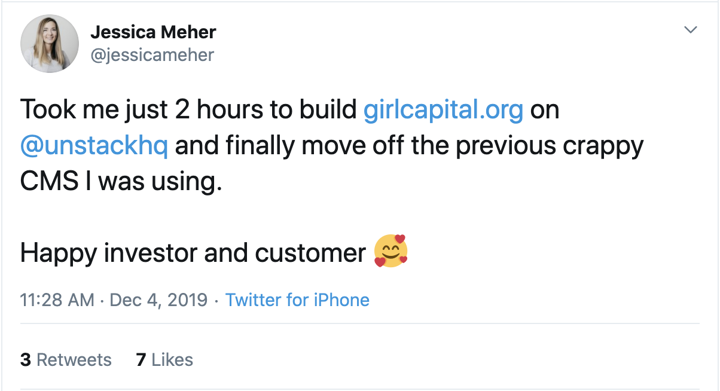 Then I found the "Made with Unstack.com" badge and explored the company behind that website. This brought me to a live chat with Grant Deken, who later I found out is/was the CEO of Unstack.
At first, I just wanted to explore, but then after scheduling a call 5-days later and meeting the team I knew I wanted in.
Then, in January of 2020, I began at Unstack to lead the customer success and product marketing team.
And, this chapter... well, I am still writing it.